Hotel All Suites Palazzo Magnani Feroni Florence
. Book your Florence luxury hotel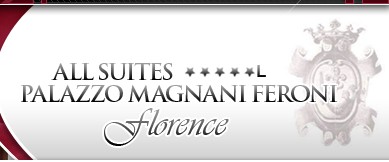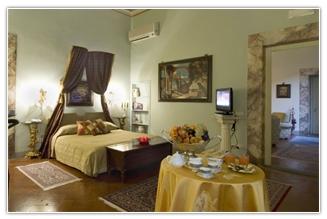 Exclusive services, twelve elegant and refined suites, a helpful and always professional staff, breathtaking panorama and strategic position near the historical centre…these are the qualities of the All Suites Palazzo Magnani Feroni, enchanting Renaissance palace, which lies at 5 minutes from the city centre of Florence, the most famous shopping streets and the main monuments of the city are far just a few steps from our hotel.

Little pleasant details will welcome our guests, luxurious suites that assure you of an exclusive stay in an elegant and refined atmosphere, a thoughtful and discreet staff is 24 hours a day at your disposal, there is also a private gym where you can unwind and keep fit during your holiday. There are always at our guests' disposal a billiard room, an indoor and private court and the magnificent rooftop terrace, which offers a splendid 360° view of Florence and in the summer hosts the bar.

The offer of our hotel is completed by a spacious and elegant conference area, perfect to organise every kind of event, and a covered and kept garage (on charge) where your car will remain safe for all the duration of your stay.

If you need any kind of information and for every request, reservation and organization of your days in Florence; don't hesitate to apply to our Guest Care Service, which will be happy to satisfy every kind of your requests.
Give us your Feedback
All Suites Palazzo Magnani Feroni, Borgo San Frediano, 5 - Florence
HotelinFirenze.com
Copyright © 2008 - 2020 | P.IVA# 03458490277